Download Typing Tutor for Allahabad High Court typing test exam.. You can download the software from the link given below in this post. Soni Typing Tutor provides the typing software for candidates preparing for this exam. You can download this software and prepare yourself for exam in a better way.
In this post we will discuss exam pattern, typing fonts used in this exam, keyboard layouts and typing software one by one.
Download Link :- https://www.sonitypingtutor.com/downloads
Exam Pattern of Allahabad High Court
There will be bilingual typing test in both Hindi and English language. Speed will be measured in WPM; Words Per Minute. There are several ways to measure typing speed in various examinations. Your minimum typing speed in Hindi and English should be 25 wpm and 30 wpm respectively.
Hindi Typing – 25 WPM
English Typing – 30 WPM
Typing test screen would look like the following picture-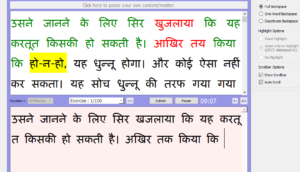 You have to type the word highlighted in yellow background. Type the word and press 'space key' to move to the next word. When you press 'space key' on keyboard the next word will be highlighted. If you have typed the highlighted word correctly then the highlighted word will change to green otherwise if you have typed the word incorrectly then the highlighted word will become red.
RED COLOR –            Incorrect Word
GREEN COLOR–       Correct Word
Hindi Typing Font for Allahabad High Court Typing Test
Unicode Mangal font will be used in Hindi typing for Allahabad High Court typing test. You have to download and install this font in older versions of Windows but in latest Windows 10 this mangal font comes pre-installed. Soni Typing Tutor does not require you to download mangal font separately because Soni Typing Tutor automatically installs mangal font in your PC while installing. So just download and install Soni Typing Tutor and learn typing. There is no need to worry about any font.
Keyboard Layout for Hindi Typing in Allahabad High Court Typing Exam
There three layouts available for Hindi typing in Allahabad High Court exam. You can choose any layout of your choice from the following three options.
Remington Gail Layout
Inscript Layout
Devanagari Layout
Last time Allahabad High Court allowed only Inscript layout but this time there are three options available. This is a good news for candidates.
Which keyboard layout should I choose?
If you are new to Hindi typing then choose Remington Gail layout. There are many reason behind this-
Remington Gail is the easiest to learn layout among all three.
Remington Gail is used by several departments in many states.
Remington Gail layout typing with mangal font is 95% similar to KrutiDev font typing. If you already know Hindi typing in KrutiDev/DevLys font then you will learn typing very easily. If you don't know Hindi typing in KrutiDev font in that case you should choose Remington Gail layout again. If you can type in Remington Gail then you do not need to learn typing in KrutiDev font because these two are almost 95% same. So it will save your time and energy and also you learn two Hindi typing fonts Mangal and Krutidev.
You can choose Inscript layout if you want to appear in exams like CISF, CRPF and BSF. Inscript layout is used in these exams. Inscript is very hard as compared to Remington Gail layout. Inscript keyboard layout is also available in Soni Typing Tutor.
Soni Typing Tutor supports all keyboard layouts for typing according to exam pattern.
Download Link :- https://www.sonitypingtutor.com/downloads
Typing Software for Allahabad High Court Typing test
Download and install the best Hindi and English typing software for government job typing exam- Soni Typing Tutor. Soni Typing Tutor supports all English and Hindi typing options. Soni Typing software is designed according to typing pattern and shows result as per your exam. You can prepare for any pattern according to your choice.
Download Link :- https://www.sonitypingtutor.com/downloads
If you have any query or suggestions please write us in the comments. We take value your suggestions more than anything else.