Best Hindi Typing Master
Learning Hindi typing is a smart thought! Here we are providing the Free Hindi Typing Tutor Software with Mangal Font in view of Inscript Keyboard Layout. Inscript Keyboard Layout Hindi Typing Master with Mangal Font is exceptionally helpful for various kinds of government exams like SSC Typing Test, U.P. Police Computer Operator Typing Test, CPCT Typing Test and many other government examinations.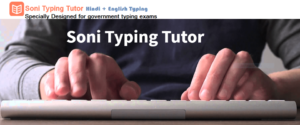 Now you are thinking that what is Mangal Font? Then your answer is here:
Mangal Font is a Devnagari Script Font or Hindi Font which depends on Unicode. Or then again in different terms, it's most normal Unicode Hindi text style generally utilized for Hindi Typing. Mangal font style utilized in many typing test exams in India which we have specified officially beginning of the blog. If you want to utilize Mangal Font then it is already introduced in the Windows Operating System you can check in your system. For this first you have to go to Control Panel – > Fonts – > Search for Mangal you will discover it. But, the issue would if you can't type in Hindi when you attempt to type by changing text style family to Mangal in MS Word or different applications it will just type in English, not in Hindi?
The Solution is you need to utilize specific Hindi software to type in Mangal Font. For that, you need to use Soni Typing Tutor that is the best Hind Typing software in these days. Recent time, the substantial number of software engineers and the technical staffs are utilizing just two fingers for typing. Soni Typing Tutor – Hindi Typing Master online has been set up for the advantage of such individuals who have not had the opportunity or time to take up typing preparing. By utilizing this software, you can learn basics Hindi very quickly and easily, within 6 to 10 hours. The typing speed depends on your speed; you can move to advanced exercises and be an ace of Hindi typing inside a brief of time frame.