Download Soni Typing Tutor
Soni Typing Tutor's new version has improved a lot to help you for your dream job typing test. We are continuously trying to serve you better. Download this right now and use. English typing and numeric typing are absolutely free. We charge only for Hindi typing.
KrutiDev & DevLys Font- High Court LDC 2019 Special
High Court LDC 2019 pattern based
DevLys 010 Font and KrutiDev 010 Font
Remington Gail Layout
Free English typing tutor
500+ Exercises
Mangal Font - BELTRON, CPCT, Allahabad HC, All India Exams
Unicode Mangal Font
Remington Gail/CBI Layout
Inscript Layout
Free English typing tutor
300+ Exercises
How to install?
Soni Typing Tutor works on all Windows versions Windows XP/7/8/8.1 and the latest Windows 10. Just follow these easy steps..
1. First do "Right Click" on the downloaded file.
2. After right click a menu will be opened. In the opened menu click on the "Run as administrator" option.
3. Now Installation will start automatically just follow the instructions shown in installation program.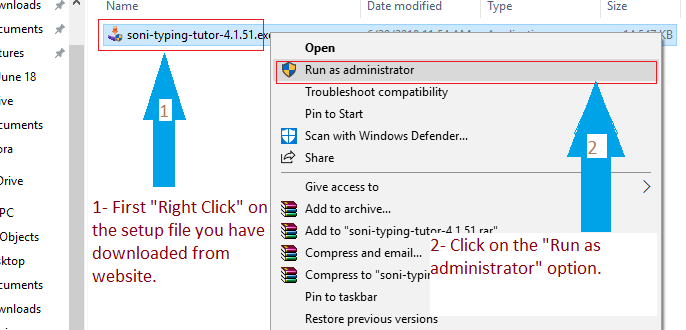 Key Features of Soni Typing Tutor: Mangal Font, Remington Gail, Inscript, Krutidev 010, Devlys 010 font
1.
Hindi Typing Tutor
: 150 tests (50 short paragraphs, 100 long paragraphs)
2.
Word Processor Efficiency Tests
: Efficiency test for Rajasthan High Court
3.
Free English Typing Tutor
: 156 tests (50 short paragraphs, 106 long paragraphs)
Soni Typing Tutor is now available for Informatics Assistant exam 2018 and also for RSMSSB LDC 2018. As per the pattern of IA/LDC exam with more than 300 exercises. You can learn typing for the upcoming Informatics Assistant exam 2018. Soni Typing Tutor is free for English typing to anyone. RSMSSB IA exam will be conducted in May 2018 and typing exam will likely to take place after one month of written test. Download this typing tutor for the sure success in your IA exam 2018. We have our redistributors in all over Rajasthan as Jaipur, Jodhpur, Udaipur, Bikaner, Sikar, Alwar, Kota, Ajmer, Bharatpur, Bhilwara and many more.
Please read our End-User License Agreement and Uninstall steps about Soni typing tutor
Note: Sony Typing Tutor never claim to be authorized by any recruitment organizer department or organization or commission. It is a software dedicated to your better preparation for typing tests. Best wishes for your success.